The HP DesignJet T125 Printer is a great option for home or small office use for architects, engineers, and construction professionals. This user-friendly and space-saving plotter can handle all of your printing jobs which helps in business growth.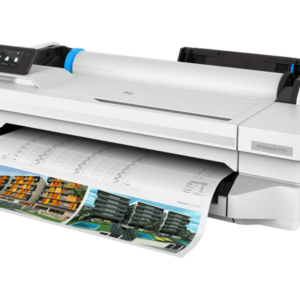 It is compatible with a broad variety of media sizes, including sheets as wide as 24 inches and rolls as long as 11 inches. Printing on a wide variety of media types is a breeze thanks to convenient media handling features including a roll feed, input tray, automated cutter, and sheet feed.
HP DesignJet T125 is notable for being the world's smallest large-format plotter due to its modest footprint. This plotter has a modest footprint yet produces high-quality prints that are on par with those produced by HP's more expensive DesignJet printers. Your ideas and sketches will be printed with stunning clarity and color accuracy.
It boasts simple connectivity methods designed specifically for an effortless user experience. It features a range of connectivity options like Fast Ethernet (100Base T) High Speed USB 2.0 ports Wireless LAN capabilities as well as Built in Wi Fi features. With these technologies at hand setting up your devices on this printer becomes incredibly swift at any time of day!
Furthermore those who need to print while away can do so without complications using their mobiles or tablets running Android or Chrome OS because full support is offered here too! To round it off smoothly; all it takes is downloading the free to use its Smart app available both on iOS and Android platforms; thus, delivering an efficient way to print from any device no matter your location!
With the DesignJet T125's high print rates, you can obtain your prints quickly and easily. With a maximum print speed of 45 seconds per page on A1/D, your printing jobs will be done quickly.
It comes included with a variety of helpful applications meant to improve the printing process. Printing project sets and PDF documents is a breeze with its Smart app. Its click printing software streamlines the PDF printing process for more efficiency.
You can make professional-looking posters without spending a dime with the HP Poster App's rich pictures, graphics, and patterns. The DesignJet Utility, available for both Mac and Windows, makes it simple to control the printer's preferences and do routine upkeep.
Its ability to cut expenses is a major benefit. Bringing printing in-house may help you save money on outsourcing while giving you more say over your printed materials. Small companies and professionals on a tighter budget may appreciate the low price of this plotter.
The HP DesignJet T125 is both inexpensive and user-friendly. The printer can be easily set up and used because of how intuitively designed it is. The free click program makes printing PDFs easy, requiring just a few clicks to complete. Using your mobile device and the HP Smart app, you may view and print files stored in cloud folders. With the help of its Poster Web app, creating professional-looking posters is a breeze.
It provides satisfactory printouts. With an optimum resolution of up to 1200 by 1200 dpi, it produces prints of the highest quality. With the integrated A3/A4 tray, you may print documents of any size with accurate color reproduction. Its Bright Office Inks guarantee high quality results, even on plain paper, with crisp, colorful output.
It is a dependable and steady performer because to its sturdy construction. You may have faith that your prints will be spot on thanks to the line accuracy of 0.1%. This printer has been carefully crafted and tested for optimal performance across an extensive temperature range from negative five to forty degrees Celsius (or between forty-one and one hundred four Fahrenheit).
Also noteworthy is its minimal five-millimeter non-printable region on all four sides that maximizes your covered image area. Updated engineering provides compatibility with diverse types of materials that vary in thickness and can be printed up to a maximum depth of point-three millimeters.
The HP DesignJet T125 comes with a limited hardware warranty that will provide you peace of mind for a full year after your purchase. HP is dedicated to provide first-rate customer service and making sure their goods can always be relied upon.
HP DesignJet T125 Printer Technical Specification
Supported Media Sizes: 8.3 to 24-inch wide sheets; 11 to 24-inch rolls
Paper Handling: Input Tray; Automatic Cutter; Sheet Feeder; Roll Feeder
Connectivity's option: Features high-speed USB 2.0, Wi-Fi and Ethernet (100Base-T) connections.
Print Speed: This device features print speed up to 45 seconds per page on A1/D
Software Included: HP Smart app; Click printing software; Poster App; DesignJet Utility for Mac and Windows
Print Resolution Color: HP DesignJet T125 Printer offers best print quality for color up to 1200 x 1200 optimized dpi
Power Consumption: less than 35 W for printing, less than 6 W for ready, less than 4.5 W for sleep, less than 0.3 W for standby
Dimension: The minimum size of 38.9 by 20.9 by 11.2 in
Weight: about 25 kg
Product Support: One-year limited hardware warranty
Review for the Product
It is a small, straightforward, and reasonably priced plotter designed for usage by AEC industry professionals. This plotter is a great buy for anybody who needs high-quality printing capabilities without having to leave the office.
It has a tiny footprint, produces beautiful prints, and has a variety of useful functions. Take your printing to the next level with the HP DesignJet T125 and enjoy new levels of ease, speed, and economy.